Whiteboard / Blackboard Attachments (2-Pack)
Pickup currently unavailable
Customise Your Superspace Builds
Our new whiteboard / blackboard attachment panels are designed to really bring your Superspace builds to life!
A whiteboard on one side, blackboard on other - they simply slip under the corner clips of the square panels so kids can customise builds and further power pretend play.  A menu board for a cafe, sign for a reading nook, or simply something to write and draw on for a vertical learning wall.
Key Features - 
Reversible - whiteboard one side, blackboard on the other
Attach to the square panels
Includes 2 per pack
The benefits of creative play & child development
Find out more about how creative and physical play can improve your childs development, social and cognitive skills in a fun, engaging way.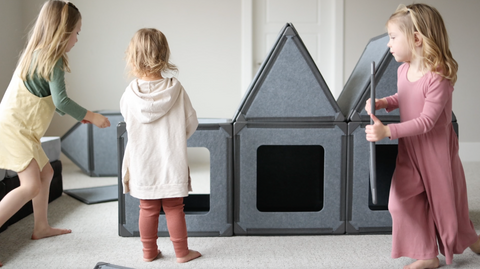 Our Panels are made from recycled plastic bottles
Fun for kids and better for the environment, our Eco Felt panels are made from recycled plastic bottles and have been designed to last a lifetime of use and creative play.