The Small Set (13 Panels)
Pickup currently unavailable
For small kids with equally BIG imaginations!
Designed as a smaller version of our popular Big Set with 22 panels, the Small Set includes 13 of our easy to connect magnetic panels that will transport your little ones to a world of limitless possibilities.
Key Features -
Includes - 

6 x Squares
2 x Square Windows
2 x Trapezoids
3 x Triangles

Lightweight for small hands
Durable for long use and easy cleaning
Sustainable (made using recycled plastic bottles) for the environment
Available in all our colours: turqiouse, charcoal, blue, orange & pine
Shipping: $20 per set
Recommended Age(s): 3+ (contains magnets, although securely housed in our plastic casings)
Box Dimensions: 40 x 20 x 6 inches
Weight: 13 lbs
The benefits of creative play & child development
Find out more about how creative and physical play can improve your childs development, social and cognitive skills in a fun, engaging way.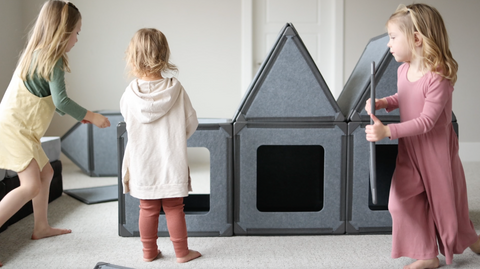 Our Panels are made from recycled plastic bottles
Fun for kids and better for the environment, our Eco Felt panels are made from recycled plastic bottles and have been designed to last a lifetime of use and creative play.