The Rectangles Add-on Pack
Pickup currently unavailable
The Ultimate Add-on Pack
Take your Superspace structures to a whole new (bigger) level with our new Superspace Rectangles Add-on pack.
The pack contains 7 rectangle panels -  6 solid panels and 1 super cool rectangle with a window (or is it a door? - we'll let you decide) - that's the equivalent of 14 squares!
Perfect for making even bigger builds like a turret for a castle, a high entrance to a fort, or a really long tunnel.  
The future of play just got better ... and bigger!
The Rectangle Packs come in our standard 5 colours:
Turquoise
Charcoal
Blue
Orange
Pine
Shipping: $20 per pack
Recommended Age(s): 3+ (contains magnets, although securely housed in our plastic casings)
Box Dimensions: 40 x 20 x 6 inches
Weight: 13 lbs
The benefits of creative play & child development
Find out more about how creative and physical play can improve your childs development, social and cognitive skills in a fun, engaging way.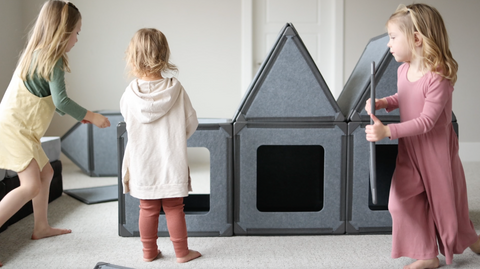 Our Panels are made from recycled plastic bottles
Fun for kids and better for the environment, our Eco Felt panels are made from recycled plastic bottles and have been designed to last a lifetime of use and creative play.